Impotence issue like Erectile Dysfunction in men is a situation where men fail to attain erection. Such condition takes place even if man is sexually stimulated. Impotency issue in men is a common condition that is caused by various physical and psychological conditions. Appropriate consumption of medicine like Vardenafil component medicines works best if consumed as prescribed by doctor. The component in Filitra medicine is manufactured by Fortune Healthcare and is known for quick action mechanism and long lasting effective results for treating ED in men.
Highly trusted effective component belongs to a class of medications called phosphodiesterase (PDE) inhibitors. This sensational component is known for working sensationally by boosting up flow of blood in the penile region while man is sexual aroused. Enhancement of blood flow leads to perfect erection that lasts for longer time. High powered medicine is known for its quick action mechanism and long lasting effective results. Medicine shows its positive effective results only when consumed in presence of complete sexual stimulation. Empirical Formula for this component is C23H32N6O4S with systematic name as 4-[2-Ethoxy-5-(4-ethylpiperazin-1-yl)sulfonyl-phenyl]-9-methyl-7-propyl-3,5,6,8-tetrazabicyclo [4.3.0]nona-3,7,9-trien-2-one and molecular weight as 488.60298 g/mol.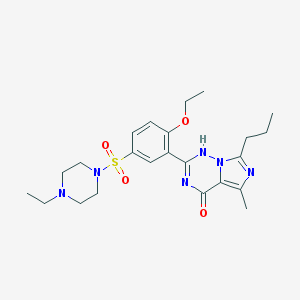 Generic medicine composed of Vardenafil medicine includes Filitra. This powerful medicine is available in various sensation forms for oral consumption. Various forms of this medicine include conventional tablet and sublingual. These sensational forms of medicines are highly effective and relieve impotency issues in minutes if consumed as prescribed in moderation. Component strength composed in these medicines varies from 10mg to 40mg for convenience of use. With reference to severity of ED condition, doctor prescribes dosage of medicine.
Proper intake of this medicine as prescribed with reference to its form and strength allows men to gain maximum effective results. Moderate intake of pills is must for safe and maximum effective outcomes. Conventional tablet are to be consumed as whole approx. 30 minutes before intercourse, whereas, sublingual tablets is to be consumed by placing it below tongue in presence of complete sexual stimulation.
Vardenafil composed medicine may lead to some less serious side effects including headache, upset stomach, heartburn, flushing, stuffy or runny nose and flu-like symptoms. Such mere effects are nothing to worry about as they do not stay for longer time. Severe reactions happen in rare and extreme cases of overdose or due to allergic reactions with ingredient Vardenafil in pills; these severe reactions may need medical assistance.
Products of Vardenafil:
Filitra
| | | | | | |
| --- | --- | --- | --- | --- | --- |
| Medicine Name | Composition | Color | Shape | Validity | Packaging |
| Filitra 10 | 10mg Vardenafil in each Conventional Tablet | Yellow | Round | 36 Months from Mfd. Date | 10 Pills per Blister |
| Filitra 20 | 20mg Vardenafil in each Conventional Tablet | Yellow | Round | 36 Months from Mfd. Date | 10 Pills per Blister |
| Filitra 40 | 40mg Vardenafil in each Conventional Tablet | Yellow | Round | 36 Months from Mfd. Date | 10 Pills per Blister |
| Filitra Professional | 20mg Vardenafil in each Sublingual Tablet | White | Round | 36 Months from Mfd. Date | 10 Sublingual Tablets per Blister |