Hair is the preface of inner and outer personality to the world. This most important part is an elegant aspect of the human body. Very few amongst us actually would invest time in taking care of hair with decent sustenance and preservation. Hair care is most important and prime element one should look after. Changes in routine and lifestyle makes thing difficult and care of hair is difficult to maintain. Amongst all of hair care issues, alopecia areata and diminishing hair line are most commonly observed issues amongst men. Finasteride component is known for providing best solution to accord with such type of hair fall or loss.
Finasteride component is a solution that is used to treat Male Pattern Baldness (androgenic alopecia). This solution works effectively by decreasing amount of male sex hormone dihydrotestosterone (DHT) that is produced mainly by the body. DHT is the major cause of hair follicles on the scalp to shrink until they can no longer foster healthy hair growth in sculp. By blocking creation of DHT, the component lowers overall levels of DHT in body that further allows for normal hair regrowth and decreases overall hair loss. Empirical Formula for this component is C23H36N2O2 with systematic name as N-(1,1-dimethylethyl)-3-oxo-(5α,17β)-4-azaandrost-1-ene-17-carboxamide and molecular weight as 372.549 g/mol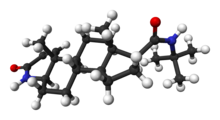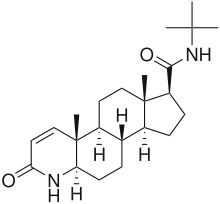 Finasteride in possibly strengths of 1 mg in Proscalpin medicine provides an appealing regimen that provides best outcomes with everyday use/prescription use. Medication performs internally by enhancing follicles and allowing hair to regrowth. This medicated solution benefits to reduce chances of baldness. Super sensational treatment of this medicine provides a two-way treatment to lower hair fall and boost up process of hair to re-growth.
Adult men should use Finasteride composed medicine only for treating male pattern baldness issue. Women and children should avoid using this medication and pregnant women should take special care. Medicine available in blister pack of 10 conventional while round pills is to be consumed orally. Simply swallow 1 tablet daily as whole with water, with or without a meal. Avoid altering the state of pill by breaking or crushing the tablets. Try to consume the pill at the same time every day: before going to bed. Finasteride composed pills are to be taken regularly for at least 3 months to see positive results. They are required to consume regularly for maintaining healthy hair growth. Once you stop consumption of any hair growth experienced is generally lost within 12 months of restriction.
Fortune Healthcare manufacturer composes this pill. Medicine helps one to maintain healthy hair with decreased hair fall and encouraged volume of hair to prevent baldness in future. Chances of allergies or adverse reactions with this medicine are minimal. However, in some cases men may come across some side effects like headaches, dizziness, runny nose, weakness, abnormal ejaculations, skin rash, changes to sex drive, swelling of feet, hands and breasts.
Products of Finasteride:
Proscalpin
| | | | | | |
| --- | --- | --- | --- | --- | --- |
| Medicine Name | Composition | Color | Shape | Validity | Packaging |
| Proscalpin | 1mg Finasteride in each Conventional Tablet | White | Round | 36 Months from Mfd. Date | 10 Pills per Blister |